I have continued with the concepts of free-form painting with knives using primarily acrylics, although I have experimented with silk paper and oils over acrylics to provide texture and more subtle colours. I revived an old oil painting with further heavy applications of oil paint and have found the same satisfaction with oils, although good quality oils are still subtly different to work with than acrylics. It is more like painting with butter. Yum!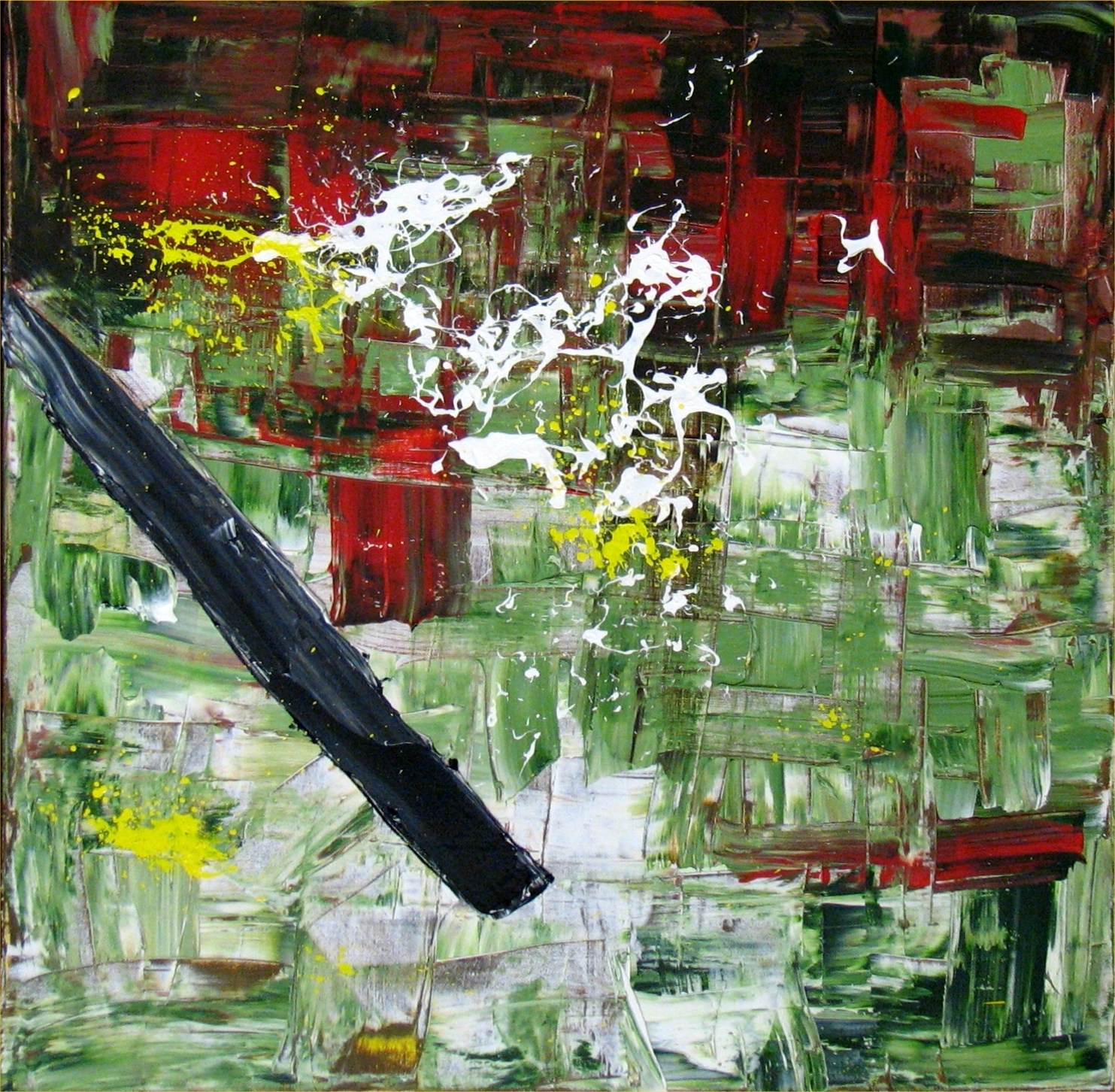 Plaid Harvest
24x24, acrylic on canvas. SOLD

I continued with the format that I learned with Erik and produced this painting. I had the original concept of fields at harvest, but the painting slid sideways from my control and I finished with this. I rather like the result.
IED
24x24, acrylic on canvas. $260.00

With the ongoing wars in Afghanistan and Iraq I was motivated to put my energies into portraying the energy and violence in a roadside bomb (Improvised Explosive Device, hence the title). Does this look like an IED explosion? No, they are much dirtier and blacker than this, but it is my expression of the inherent violence.
Texture in Red, Yellow and Purple
24x24, acrylic on canvas. $260.00

This painting took over 3 months to finish, as I was never sure where it was going. After the gray and purple I decided to develop it into an exploration of texture. I'd wait and let my subconscious work on it and the next step would be revealed in time.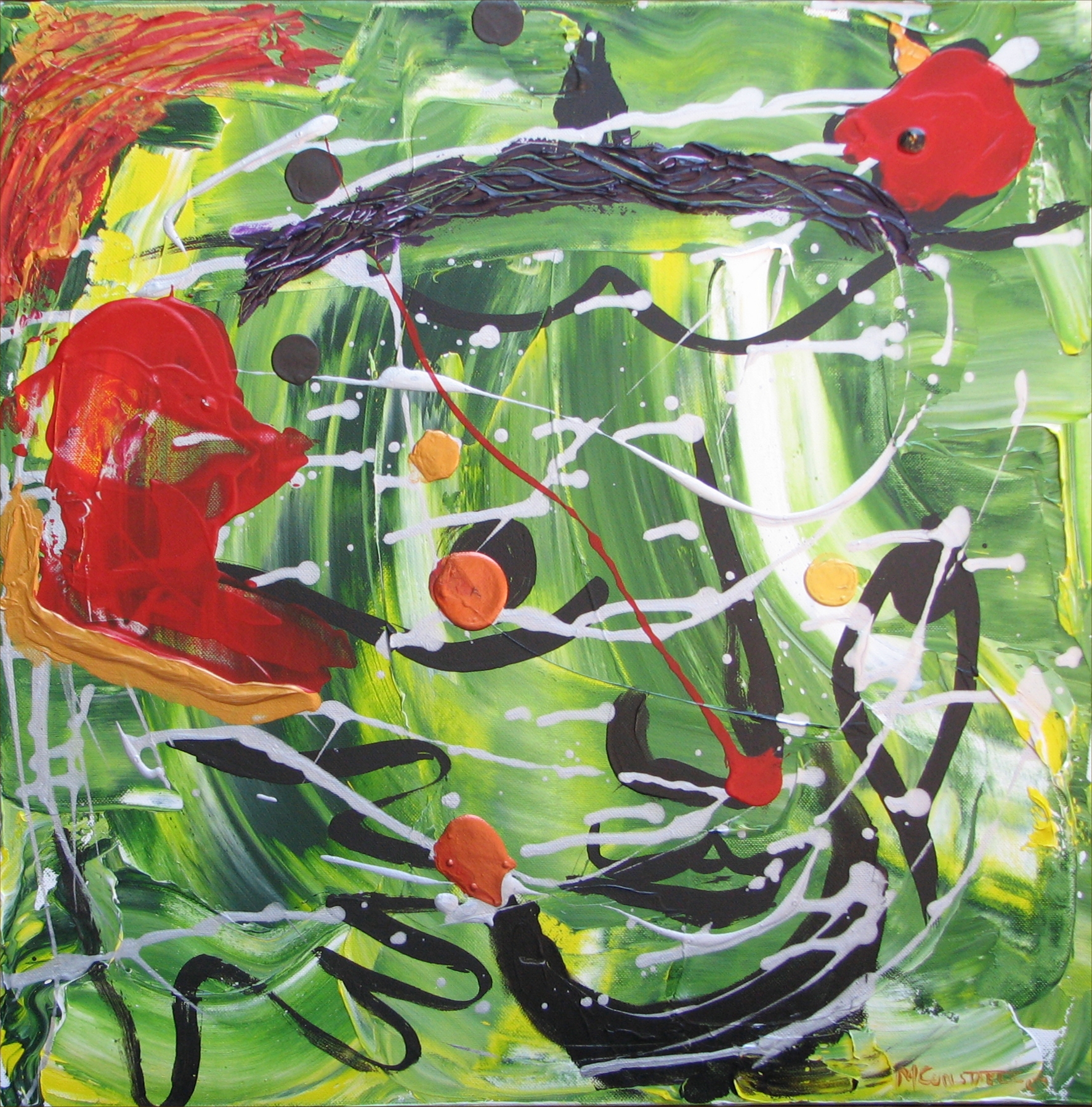 Portrait of the Artist at 50
20x20x1.5, acrylic on canvas. NFS.

This I felt was a successful self portrait in a very loose style. Can you spot the rooster?
Wave Rider
18x24, oil on canvas. $180.00

This painting started life as a sunset over waves using oil paints. However, I wasn't happy with it so I shelved it for 8 months. With my use of palette knives I brought it out and started working it with more oils in a freer approach. The green sweep in the middle reminds me of a wave riding dolphin with the black mass behind it the ship.
Dans le Jardin de Lumiere
18x36x3, mixed media. SOLD

The local art shops in Edmonton contributed much to this painting. Delta Arts brought in 3 inch thick canvases that are more like pieces of furniture, and The Paint Spot has a supply of cool, silk papers. I combined these with acrylic and oil paints and came up with this work. It really needs to be seen as it has a notable presence on the wall.
Earthscape III. Urbania
24x24, acrylic on hardboard. $360.00

The third in my Earthscape series, Urbania is symbolic of the metropolis. I have produced an overall feel of a city on the ocean as seen from the air. All that can be discerned are colours arranged in patterns, with several "mega-patterns" of super highways. Surrounding the humanity of the city is the wild and untamable ocean.
Red Madonna
24x24, acrylic on canvas. $260.00

What started as swirls on the canvas quickly gelled into a woman on a grassy field at sunrise.
Smiling Geisha
10x10x3, acrylic on canvas. Gifted to a good friend.

This is the first painting in a small yet thick format and must be seen to be appreciated fully. The Smiling Geisha did not appear to me for several days after I finished the painting.
Proof of Gravity
10x10x3, acrylic on canvas. Painted over
This was a doodle during my first Whyte Ave Art Walk. I didn't like it, so in 2013 I applied a black coating to it, and then wiped some of it off, et voila. See below.
Drips
10x10x3, acrylic on canvas. $145.00
Race Day
18x24x1.5, acrylic on canvas.Gifted to a good friend.

I toned the canvas of "Race Day" with a copper-coloured acrylic using sweeping movements. On inspection the sweeps intersected and made sail-shapes all over the canvas that prompted me to continue in somewhat of a yachting theme.
Golden Field II
12x12x3, acrylic on canvas.Gifted

I did this painting for my cousin's 65th birthday. She described her reaction to it: "Golden wheat and sun in the corner. Circle is the world with dot being where we live." Yes! That's exactly what I meant. Thanks, Gina.
A Day at the Beach
36x18x3, mixed media on canvas. SOLD

This started as a public display of painting during the local Solstice Festival. I wasn't very happy with my progress on my original design so I left it for several weeks. In a burst of energy I grabbed a wide putty knife, squirted yellow and white onto it and hit the painting all over and left the room. After several days I looked it over and liked what I saw so I continued with the theme, adding the stringy bits of paper and using very dilute blues and purples they came to life as sort-of rain clouds. It is about the feel of a beach. Being 3 feet long and 3 inches thick it has a real presence on a wall.