Another year has dawned, human-kind is ever hopeful and I am still painting. This coming year should be a watershed for the Visual Arts Studio Association of St. Albert as we will be moving into the Hemingway Building in St. Albert. This is the old RCMP building that has housed a variety of groups since the RCMP vacated it. We are really looking forward to being all under one building and focusing our energies on making it a happening kind of place.
Palm Trees Windy Day
24 x 36, mixed media $400

Diane Way suggested in December that our January show should be fun and sun, how about "Palm Trees" (she had just returned from Mexico)? So it was on, a Palm Tree exhibit for the new year. I was standing around one day wondering what to do and wearing blue nitrile gloves. I held my arm up and flexed my hand, it looked like ... a "Palm" Tree. I laughed to myself and said "why not?". So here it is, a series of "Palm Trees" on a windy day on a beach. Could even be Mexico.
Palm Tree
24 x 36, mixed media $400

We were a few pieces short of a full house so I scrambled to do something a tad more serious than my previous painting of "Palm Trees". As I had only a day to produce it I went with charcoal, sketched directly onto canvas and set between layers of fixative. I really got into the charcoal and how it worked into the surface of the canvas and developing lines to simulate palm leaves. Somehow I even worked in a crucifix motif, perhaps it was a subliminal message about palm leaves. Hard to tell, my subconscious rarely talks to me in a clear voice.
Overpass
30x30 oil and charcoal $750

I was walking to the studio one flat, misty, chilly, gray day in February and I came upon the local overpass. It struck me that this strong horizontal feature that was supported by strong verticals in the landscape could make a good subject for a painting. Following on from my charcoal on canvas work I decided to experiment with charcoal in oil paint. So, I used a fair bit of charcoal in with the wet oil paint to create gray tones. I was impressed that the charcoal held it's own in the painting as long as it didn't get coated with paint.
Blue 2: Bedding Planes
30x30, oil $750

In this piece I moved back to my angular forms to continue my series from before Christmas. I was trying to get away from the horizontal and vertical forms I had been creating so I approached this one with a strong diagonal format. For some reason the geological term "Bedding Planes" came to mind, so I tacked that onto the end of the rather prosaic "Blue 2".
Bronze 1
30x30 oil $750

Here I have returned to my series of strong geometric shapes to reflect imaginary urban landscape elements. The simplified structures are eerily reminiscent of tall buildings with a moon rising in the darkening landscape.
Bronze 2
30x30 oil $750

The second painting in bronze; I liked the first so much I wanted to pursue some ideas for another bronze painting. Actually in this piece I used only two colours, bronze and black. The light tones are the result of scraping back paint to allow the canvas to show through thereby creating light tones of bronze and black.
Blue 3
30x30 oil and charcoal $750

I continued the geometric urban theme but added the charcoal in the tall form on the left and to darken much of the horizontal surface. I rather like the muted blue colour, the wispy "clouds" were formed by removing paint, while the white "buildings" were done with white paint. The drippy sort-of trees were an interesting touch I created by using a fair bit of solvent in the paint and letting it flow just a little.
In September I had my first solo art show at The Daffodil Gallery called "Winter To Spring To Summer". It was awesome seeing my Blue and Yellow series lining one wall and my urban geometric series on the other. And the really good news is that the sales keep happening! The folks at Daffodil Gallery are just great, thanks to Karen and Marilynn.
Blue and Yellow = Spring No. 1
30x30 oil $600

Spring was upon me and I was feeling very bouncy and energetic when I got into the studio. Still in keeping with a minimalist palette I attacked this canvas with a lot of intense yellow and white, and then poured phthalo blue paint into the white. As I watched the blue paint moving I noticed that it was moving under the wet white paint and forming an incredible textured surface. Awesome to watch. Then I moved on to adding blue to the yellow and watched again a similar interaction between the paints.
Blue and Yellow = Spring No. 2
30x30 oil $600

Spring series, painting number 2. Oddly enough I couldn't quite duplicate the interactions between the blue and the white paints, the blue refused to flow under the white, so in mild despiration I added raw solvent to the blue and watched it flow all over. Wow! Not what I expected, so I tipped it back and forth to get an interesting running/drippy effect in the blue.
Blue and Yellow = Spring No. 3
30x30 oil SOLD

Spring series, painting number 3. And it all slid sideways on me. The white I had in the middle really wasn't working, so again in despiration (I seem to do a lot of work in this mode) I grabbed a putty knife and pulled it through the middle. And again, then did that with a wide brush, and added white, and pushed it around and around and started to remove paint with a squeegee. Finally it was looking pretty cool, all it needed was the final splash of white, et voila! And it sold in no time.
Blue and Yellow = Spring No. 4
30x30 oil SOLD

Spring series, painting number 4. Following the success of number 3 I realized that a series based on number 3 could form a solid, and new, basis for my upcoming September show at Daffodil Gallery. The next paintings are variations on a theme. One I had a lot of fun with, although I got a lot of paint on my new studio floor.
Blue and Yellow = Spring No. 5
30x30 oil $600

Spring series, painting number 5. I particularly like the rising/jumping quality of the greens in this painting. Not too much white.
Blue and Yellow = Spring No. 6
30x30 oil $600


Spring series, painting number 6. This is much more than number 3 with a strong diagonal movement, very aquatic in feel.
Blue and Yellow = Spring No 7
Blue and Yellow = Spring No. 7 Small
20x16x2 oil $360


An artist who shall remain anonymous called this my "Swedish Series". Well, it is sort of blue and yellow, like the Swedish flag. This is painting number 7, a relatively small piece done for the VASA small works show in December.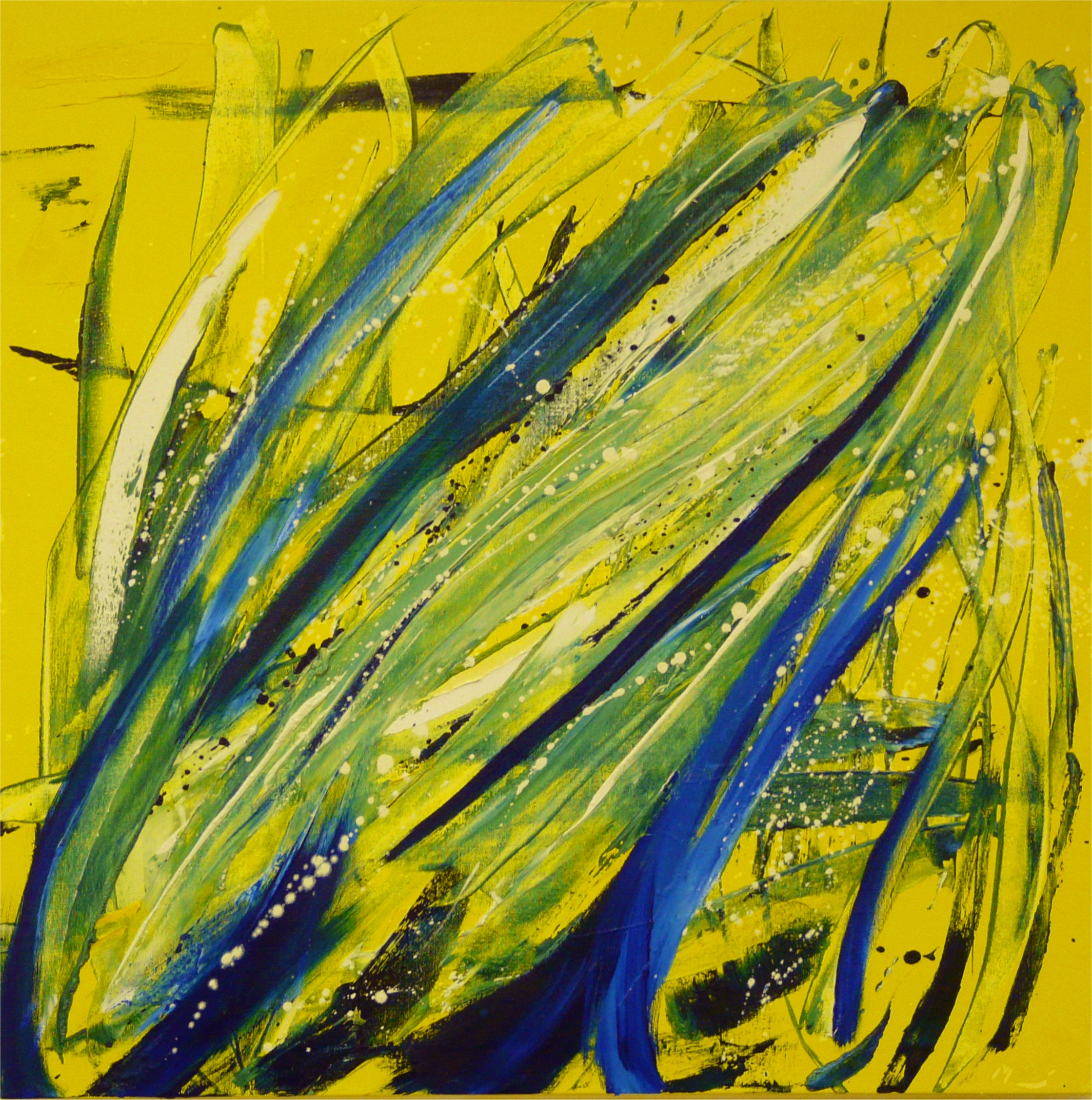 Blue and Yellow = Spring No. 8
36x36 oil $720


With this painting I started with a bright yellow background to see what I could do to vary the feel of the series. I think I will continue with this technique as it shows promise, although this one is VERY yellow. People may need sunglasses to look at it for long.
Blue and Yellow = Spring No. 9
20x16x2 oil $360


My last painting of the year, and perhaps one of the best. More subtle than the previous two, with definate movement to the upper right, yet balanced by the left side movement. Subtle hints of green through the movement add interest.

Have a Merry Christmas everyone, and thanks for looking.