New Year has come and gone and I have continued my Miles Davis series and started another new series. I have a solo show coming up in June at the Daffodil Gallery, titled "Miles does Miles". All of the paintings will be titled after tunes played by Miles Davis, the greatest jazz musician ever. His experimentation and development of jazz styles has been unsurpassed, and his music never fails to amaze and energize me. I listen solely to jazz music when painting. The other series is due to an ad hoc group of abstract artists that we have taken to calling the Goop of Seven. We have been creating pieces with new, acrylic media that lends itself to very loose, even goopy, stylings. Hence the name. Stay tuned for our first group show!
Sivad
16x16x2, acrylic $370

A pleasing, little purple toned painting. This series keeps the line and swirl motif as much as possible. "Sivad"? Think of Davis, backward!
Ah Leu Cha
36x36x2, acrylic $840

Whoa, that's green! I was originally aiming for a darker green but with the almost fluorescent paint that I used it wasn't going that way. Oh well, soldier on! The initial paint swirls I added weren't working, so in a bit of a panic I grabbed a squeegee and wiped off part of the green. I wasn't prepared for the great negative shapes, so I kept them. Now I'm incorporating that design into my creativity. It's great when accidents help the plan to come together.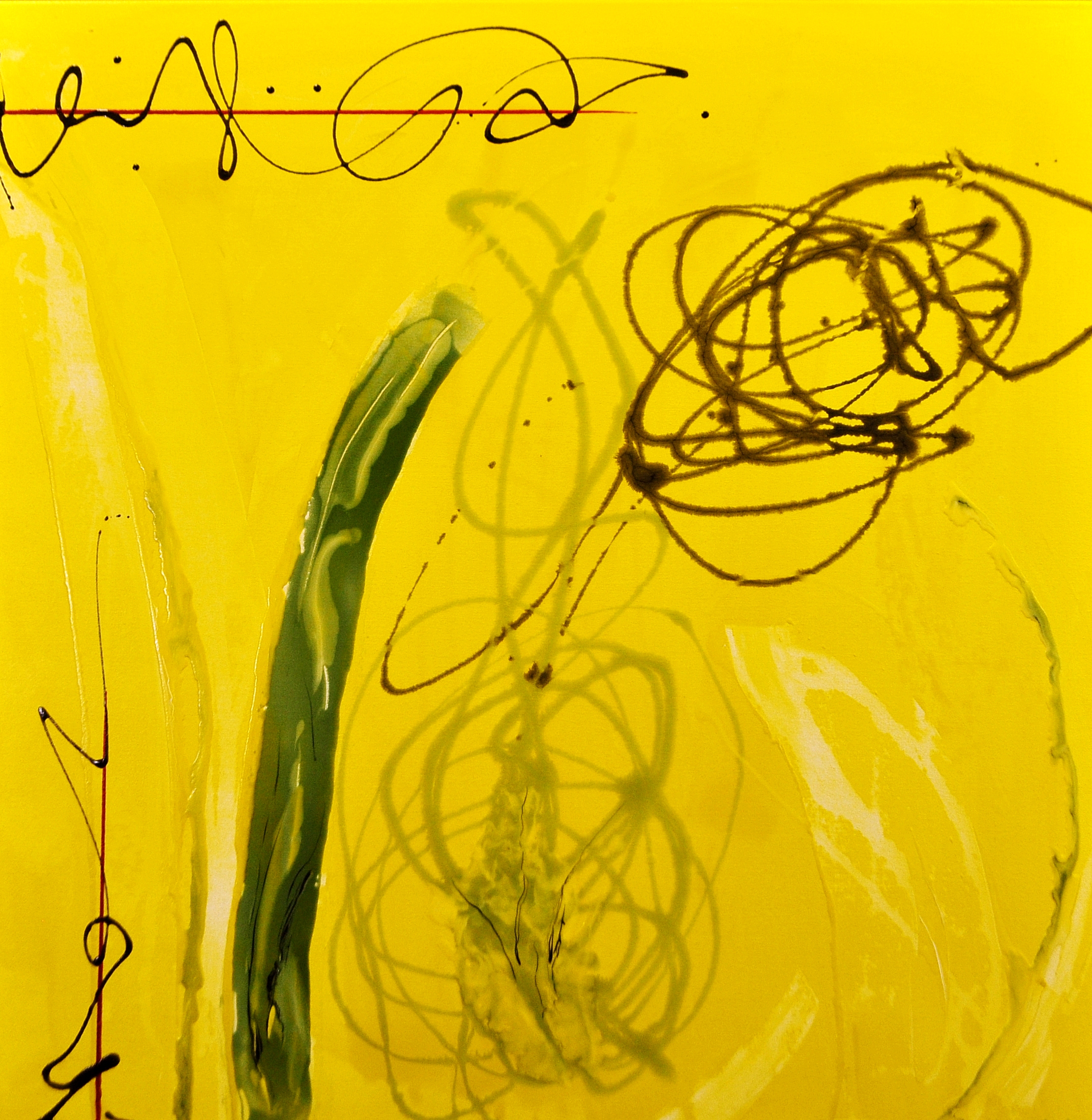 Solea
40x40x2, acrylic $930

YELLO!!! This one is so loud it's hard to hear yourself think. I love that the yellow is almost fluorescent, and the transparent green comes through like a burst of spring. You need to see this in person to appreciate it. Wear shades and sunscreen!
Cool Blues
36x36x2, acrylic SOLD

Aaahhh! Cool Blues, soothing and mellow, but funky and cool at the same time.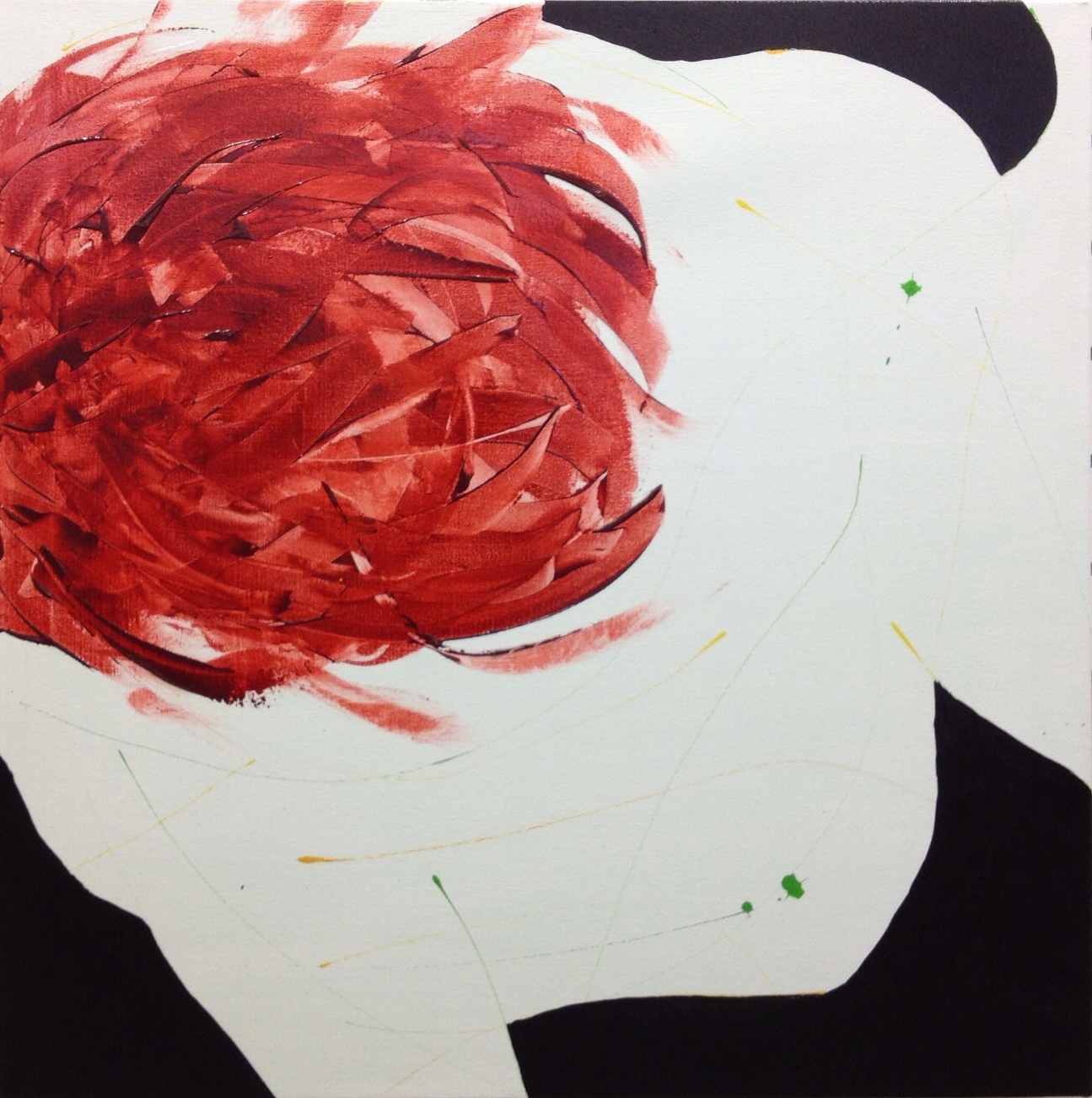 Rocker
30x30, acrylic. $700
Yet another strange, red swirly motif. I swear the things are alive and creep out from the edges of the paintings at night. Eep!
Vonetta and Pee Wee
each 20x16x2, acrylic. SOLD

This is a matched pair of paintings, titled Vonetta (left) and Pee Wee (right). Vonetta is soft, green and welcoming, while Pee Wee is harder, dark and more "in your face". Quite a pair. They come from Miles Davis's album "Sorcerer".
Maiysha
30x30x3 diamond hung, acrylic $700

I have kept it simple with this one, the white background works well with the gold and black swirls, but then to mix it up a bit I have hung it as a diamond. It is much more potent in this format.
Amandla
30x30x2, acrylic SOLD

Amandla is very, VERY pink. And shiny/sparkly all over, with just a soupcon of gold.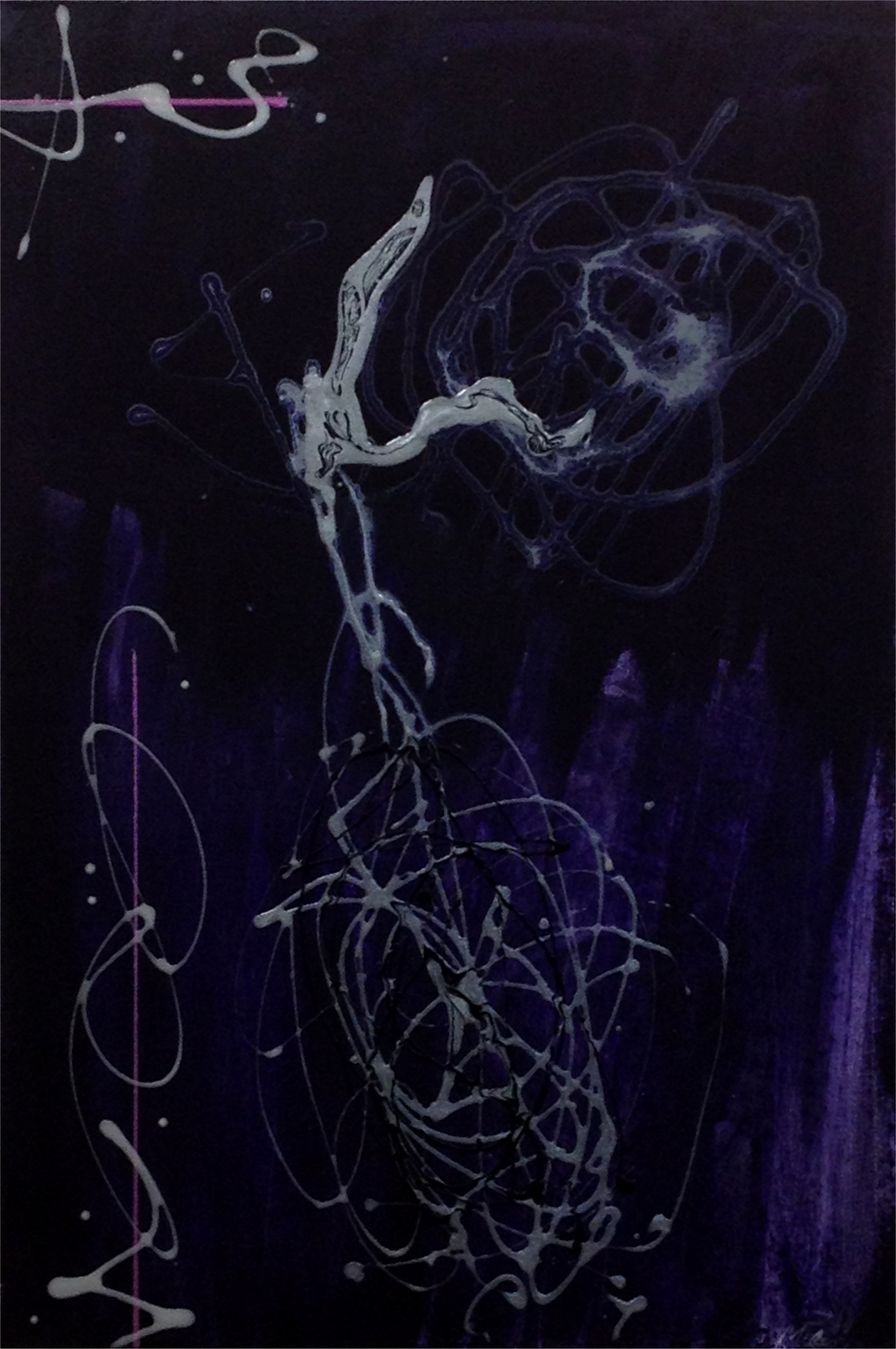 Moon Dreams
24x36xx2, acrylic SOLD

Deep purple and silver! Space? Angels? Space angels? Moon Dreams, indeed!
NEW SERIES
This new series is being done with a loose association of largely abstract artists, called the Goop of Seven. The works are mostly abstracted landscapes inspired by various artists with, or associated with, the Group of Seven, and done with new acrylic media that lends itself well to very loose, almost goopy, effects. My first in the series, was inspired by the iconic "The Tangled Garden" by J.E.H. McDonald. Many others are inspired by Lawren Harris and Tom Thomson.
In a Tangle
36x36, acrylic SOLD

This was my first large format piece using the new very fluid pouring medium that I was introduced to. It has a very organic, leafy feel to it and reminds me greatly of McDonald's painting.
Beaver Swamp
36x36x2, acrylic $840

And this was my first large format piece intentionally working after Lawren Harris's "Beaver Swamp, Algoma". While not a slavish rendition of his work, I see little point in doing that, I think I have captured the look and feel in an updated style. One of my uncles, when seeing a copy of Harris's painting said "Heck, I've got lots of land like that at the bottom of my pasture." I guess Algoma isn't the only place with beavers and swamps.
Pine Island, Storm Front
36x36x2, acrylic $840

This painting was inspired by all of the storm-wracked white pine trees that various members of the Group of Seven painted while up at Georgian Bay. Having re-surveyed their works it isn't a copy of any one, but rather my impressions of these paintings. And yes, that is a very bright magenta background. Go with it!
Northern River
36x36, acrylic. $840
This is a direct copy of Tom Thomson's masterpiece of the same name, with, or course the use of modern acrylics and media to give it a shiny, rugged appearance.
Snow and Spruce
30x30x2, acrylic $700

I first saw Harris's great painting "Spruce and Snow Northern Ontario" at the Art Gallery of Ontario. It just gleams, snow sparkling and frosty looking. I just had to attempt my own version. I have found that it is better to paint with only a few peeks at the original, otherwise you can get too slavish about copying it.
After the Fire
30x30x2, acrylic $700

This painting started life as a total abstract, but I had a block of what to do with the white stringy lines and the blue. So, when I started my Goop of Seven series I repurposed the initial painting. This one is influenced by Tom Thomson's "Burnt Land at Sunset" and "Burnt Country".
Isle of Jura
48x36x2, acrylic $970

I was on the Scottish island of Islay in 2012 and saw Jura across a narrow, yet treacherous, stretch of water. It has a pair of hills that are visible from all parts of Islay. Anyways, here is my take on it.
Les Danseurs
20x16x2, acrylic SOLD

The Goop of Seven were hanging out one day and decided to use a Lawren Harris painting for inspiration. So, I grabbed a small canvas and went to it. Nope! I missed the mark. Dejected I put it aside for a week or so. Looking at it again I discovered the dancers: Les danseurs (everything sounds fancy in French!).
North Woods
18x24x2, acrylic mixed media SOLD

Attempt 2 at a Lawren Harris inspired work, this time I hit it solidly. The smokey blues, yellows and oranges were right from Harris's work of the north woods in autumn. I added the long side pieces as a device to improve the vertical nature of the piece.
I took a short break from landscape inspired paintings to give my imagination more rein and to see what our new acrylic tools could do.
Mutation into Equus
36x24x2, acrylic mixed media $700

I could have called this "and now for something completely different", but that wouldn't be original. Again, I was experimenting with spray cans of blue, orange and yellow. For some bizarre reason I stuck another swatch of canvas on the right side, then some glass bead gel, then gold spray paint. It wasn't working, so I turned to the left side. I added a meandering line of pouring medium and coated it with grit. Next day I shook the grit off, and there was a gritty meandering line. Still, I didn't like it, so I grabbed tunes of coloured pouring medium and squirted madly. And left! Voila, a horse! Equus!
Stags Horn
36x36x2, acrylic mixed media $840

Following the critical aclaim of "My Tangled Garden" I resolved to do more organic, botanical abstract pieces. Well, here's the result of one day in the studio. Gotta love that orange! It reminds me of some weird, alien plant-like critter. Are those seeds? Or spores?
The Patch
27x20, acrylic mixed media SOLD

It was near to Hallowe'en, what was I to do? I had just bought a spray can of bright orange paint. Pouring medium, grit, green and black all followed. I'm sure I was influenced by the season.